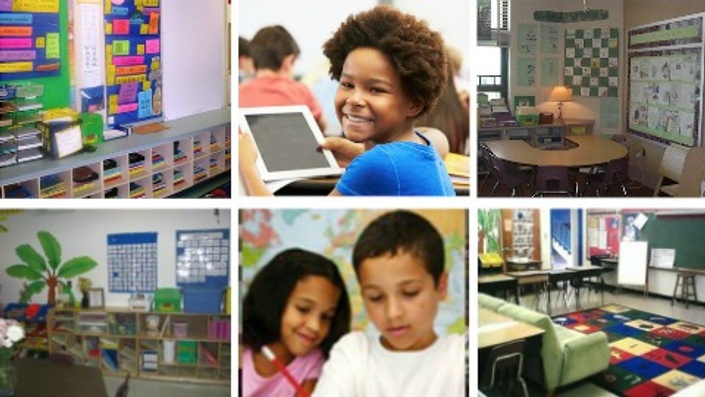 The Cornerstone Pro-Active Behavior Management Course
Construct a self-running classroom that frees you to TEACH!
The Cornerstone Pro-Active Behavior Management Webinar is a series of 5 webinar sessions that are designed to help you construct a self-running classroom that frees you to teach.
The focus is on teaching students to become responsible and self-reliant, and helping you maximize your instructional time. It's designed for teachers who work with students aged 4-11.
Introduction (10 min.)
Session 1: Precise Expectations (27 min.)
Session 2: Consistent Procedures (63 min.)
Session 3: Instructional Routines (47 min.)
Session 4: Consequences and Rewards (25 min.)
Session 5: Meeting Individual Needs (45 min.)
Closing Message (5 min.)
The webinar comes with a 15 page note-taking and summary guide (you can view an excerpt here) to help you organize your thoughts and key in on the solutions you're looking for.
What is a Webinar?
The term webinar is short for web seminar, and it's an online version of a professional development event. I decided to create The Cornerstone Pro-Active Behavior Management Webinar after getting workshop requests from educators in areas that I can't easily visit–from small American towns to Uganda to Japan to Brazil. Why not take advantage of the Internet as a truly cost-effective way to reach teachers all over the world?
Why Watch a Webinar?
If you've ever fallen asleep in a workshop or sat there fuming with rage about how the day could have been more enjoyably and productively spent at the dentist's office, you understand that high-quality, engaging professional development is hard to come by. Many times, teachers don't get a say about the workshop's topic, much less its date and time.
So what if you could attend a professional development session on a topic that's relevant to your everyday work and could make an immediate and profound impact on the way your classroom runs? What if you could attend any time you choose, and go back and re-watch any parts that were particularly helpful? And what if you could watch from the comfort of your couch while gorging on your favorite snack foods?
That's what you get when you purchase this webinar: the convenience of on-demand professional development from someone you already know and trust to deliver a product that's relevant and practical. If the resources on this website and in The Cornerstone book make sense to you and work with your students, then you know the webinar's going to provide even more solid advice. And, you'll be able to print a certificate of completion which may count toward your continuing education credits!
How Is It Different From the Book?
If you've read The Cornerstone book, you'll find that the webinar reinforces and extends the techniques you've learned. The two resources are organized completely differently to help you process the information more deeply and apply the core concepts in ways you wouldn't have thought of with just one of the resources alone. And, the webinar is cross-referenced with the book so you can look up more information about many of the ideas presented.
A lot of teachers have read the book and then emailed me to ask: Now what? How in the world do I implement all of this?That's an especially tricky issue once the school year has started because you already have routines in place and are worried about how to change them. The webinar explains step-by-step how to take your new ideas and put them into practice in a way that's manageable and not overwhelming to you or your students.
Can I Watch Some Excepts?
Sure! Download links to all of 3 excerpts in this Free Classroom Management Videos PDF. Or, watch them below on YouTube:
Transition Tips for Teachers (13:03)
Creating Behavior Plans and Charts (4:16)
Hands-On Learning and Manipulatives (5:13)
How Do I Get the Webinar?
The regular price is $139, but you can get it for 50% off if you've purchased The Cornerstone book! Just enter the coupon code WEBBK10 at checkout.
You will receive an electronic payment confirmation which you can print out and keep as a tax-deduction or to submit to your administration/district for reimbursement if you have special funds set aside for professional development and/or teacher expenses.
Also, you will be able to print a certificate of completion for 6 hours of PD which may count toward continuing education credits.
Please note that you are purchasing a single user license. If you are interested in using the webinar for staff trainings, faculty meetings, grade level PD sessions, etc., please email me for pricing.
As with my book, I'm offering a money-back guarantee: I'm confident that this webinar will help you construct a self-running classroom that frees you to teach. If it doesn't, just email me with your concerns and I'll refund your payment with no questions asked.
Your Instructor
Angela Watson is a National Board Certified Teacher with 11 years of classroom experience. In 2009, she turned her passion for helping other teachers into a career as an educational consultant based in Brooklyn, NY.
As founder of Due Season Press and Educational Services, she works as an instructional coach and speaker/presenter. She has been sharing teaching ideas on The Cornerstone For Teachers blog since 2003 (reaching over 8 million visits each year), and hosts Angela Watson's Truth for Teachers podcast, where she provides weekly encouragement and inspiration to teachers around the world.
Angela also creates curriculum resources and five books for teachers, including the best selling title "Unshakeable: 20 Ways to Enjoy Teaching Every Day...No Matter What."
Her most recent venture is the The 40 Hour Teacher Workweek Club, a subscription-based service that is currently helping over 30,000 teachers achieve work/life balance.
Course Curriculum
Welcome and Course Resources (10 min)
Available in days
days after you enroll
Session 1: Precise Expectations (27 min)
Available in days
days after you enroll
Session 2: Consistent Procedures (63 min)
Available in days
days after you enroll
Frequently Asked Questions
When does the course start and finish?
This is a completely self-paced online course - you decide when you start and when you finish.
How long do I have access to the course?
How does lifetime access sound? After enrolling, you have unlimited access to this course for as long as you like - across any and all devices you own.
What if I am unhappy with the course?
We would never want you to be unhappy! If you are unsatisfied with your purchase, contact us in the first 30 days and we will give you a full refund.
Read what teachers are saying about The Cornerstone Pro-Active Behavior Management Webinar!
"First of all, I want to thank you for putting this webinar together. I am a first year teacher and I have found it very difficult to manage the classroom. I have discovered that I did not clearly define my expectations and we did not practice enough as a class. I was really thinking that they were in third grade, this was not the first classroom they had ever been in, and I just assumed that they understood everything I wanted. I have realized by watching you that I did not provide enough clear instruction about procedures during the beginning of the year. The other thing that I have learned is that "it is never too late". I have heard many times from other educators that I cannot change routines and procedures in the middle of the year and that I need to wait until next year. Thank you for giving me permission to come back from winter break and re-teach the procedures and establish good routines and model, model, model." –M., 3rd grade teacher
* * * * * * * *
"I just wanted to say how much I'm enjoying reading your books and watching your webinar. They have encouraged me to really reflect on my own teaching practices. I'm teaching a Year 2 class this year (6/7 year olds) and your ideas will definitely help me to get our class running itself. Last year I taught Year 5 (9/10 year olds) – so it's pretty new to me getting tapped, pulled and prodded by the kids just looking for praise or tattling! At least I know why they are doing this and the importance of eliminating ambiguous instructions.You have inspired me, in that I feel motivated, enthusiastic and empowered!!!" –John, Birmingham, UK
* * * * * * * *

"I really, really, REALLY enjoyed the presentation. Some things I found I was doing well (positive affirmation) but hearing you say it's never to late to make a change was empowering. Thank you for this information. :) I have employed a few ideas already and it has begun to change the dynamics of instructional time–I love it!" –Jodi, 4th grade teacher, Florida
* * * * * * * *

"I have purchased dozens of books (including yours) to help me out but watching the webinar has made a world of a difference. I do not have to look up topics in a book, this is much faster, more interesting and effective. I cannot thank you enough!" —Sylvia, 5th grade teacher
* * * * * * * *

"I just finished the webinar series! I had spoken to my kindergarten teacher (yes, my parents are still in touch with her) and her comment was, 'Some years you just want to throw up your hands and quit. You just stick it out because the next year will remind you why you became a teacher'. Well, winter break could not come fast enough this year and I needed a boost in confidence. Your webinar and teaching style was exactly what I needed. I really appreciated that I felt as if I was just chatting with a friend about ways to problem solve in the classroom. I also appreciated that you made the study guide and had me think about my concerns. Returning to that page after watching and writing down possible solutions was so empowering. I have nothing but compliments and positive feedback to pass on to my administration. They have been looking for web based training to offer the staff and I will be turning in a review along with a copy of my study guide on my first day back in January. Once again, thank you!" –Christa E
* * * * * * * *

"I am a long-time follower of your website, since back in the days of Ms. Powell's teaching tips, and I really enjoyed your Cornerstone book. I bought it for my student teacher and I also revisit it every summer when I am getting back into the school mode a few weeks before school starts and sometimes occasionally throughout the year. It is an amazing resource and has given me so many great ideas that streamline my teaching. I was excited to see your webinar become available awhile back. It was exactly as you described- finally some professional development that was relevant, helpful, and could be applied to my classroom right away with real photos and examples shown. I also love how I can come back and revisit certain points in the videos at a later date. You created a fantastic webinar and I can't even imagine how long it took to prepare and create, yet I can't wait for another one! THANKS! Looking forward to your next webinar!" –Lisa D., Connecticut
* * * * * * * *

"Thank you so much for such a detailed practical interesting series of training webinars. I wish I had found you before I had my tough class last year. I can see where I went wrong – the individual two tone counters would have worked wonders. I had procedures but a lot of them were not precise enough for every student to know what to do. You have real flair in presenting. Thank you for this life saver. Was ready to give up teaching."–Sylvia S.
* * * * * * * *

"I'm in love with your Webinar! I've already applied a number of techniques that I heard from it! I can't wait to finish! It is so awesome to actually hear you talk about everything in your book! Thank you so much! This has been a very trying year, but with this I feel like I'm going to have an amazing class!" –Stephanie S., Delaware
* * * * * * * *

"I enjoyed being able to watch it on my home computer, school laptop, and my iPhone! Thanks so much." –Sheila D.
* * * * * * * *

"Thank you so much for the wonderful Pro-Active Behavior Management Webinar. I finished watching all of the sessions and enjoyed all of them. I have already started to implement your suggestions and have found it to really make a difference. I plan on beginning my next school year with these ideas. I felt that the webinar was easy to follow and realistic to implement. I also liked how you said that it was o.k. to change something in your classroom right away, rather than waiting to start a new school year. Thank you so much!" –Carrie K.
* * * * * * * *

"Yay! I just got my webinar and can't wait to start it! I have learned SO much from your book and website over my short teaching career and had have GREAT success with your ideas and philosophies. I know that I will learn lots of new things from the webinar! Thanks Angela!" –Julie R., North Carolina
* * * * * * * *

"Just finished your webinar and I loved it! I have already begun implementing many of your ideas and they are working!!!! This is only my second year teaching so your book and webinar have been a HUGE help to me. Don't know how you have time to do all you do. May God continue to bless you. Thanks again." –Cheryl F.