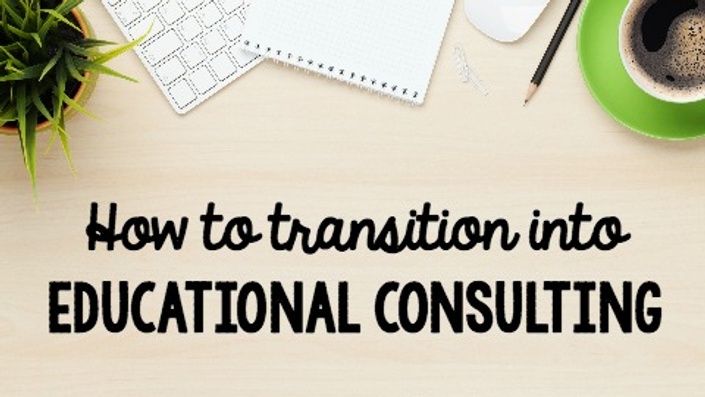 Transition Into Educational Consulting
6 steps to getting started as a full- or part-time educational consultant: learn how to share your teaching expertise and get paid for it!
Watch Promo
If you've read my article Becoming an Educational Consultant and are asking yourself, "How do I get started?" then the advice here is exactly what you need.

I'm Angela. I've been an educational consultant since 2009, conducting workshops and instructional coaching in schools, publishing teaching books, and creating curriculum resources. Check out the About Angela page for more info.
6 steps for transitioning into consulting
I've created an 18 module online course which includes a 100 minutes of video, a transcript, note-taking guide, and an audio-only version so you can listen and re-listen while exercising, driving, or getting things done around the house. In these resources, I share:
6 steps for transitioning into full- or part-time educational consulting
How consulting and instructional coaching can go hand in hand
Your first actionable step which you should start today
How to create a long-range game plan: what to do next week, next month, next year
How to find your niche and stay on top of educational trends
4 tools you should leverage as you establish yourself as an expert online
How to build your social media presence (even if you're working from scratch)
Strategies for networking and growing your following
Ways to create passive income so you get paid even when you're not consulting
How to get your first speaking/consulting gigs in your local area and expand into bigger markets
What this course is (and isn't)
Keep in mind: Consulting is a VERY personal journey, and everyone's path is different. You will need to follow your own vision as you go through each of these steps.You will also need to do your own research to put the steps into practice. For example, one of the steps is creating a blog/website. I can't walk you through the process of creating a blog: that would take hours, and there's a ton of information that has already been shared about that online.
What I CAN do through this course is tell you all the stuff that ISN'T all over the web: when in this journey you will need the blog, why you need the blog, and how to use your blog to establish yourself as an expert in your niche, sell your products/services, and book more clients. The steps are a framework to help you get your business game plan together. As you reach each step, you will need to rely on your own independent, entrepreneurial spirit to determine how the step will fit into YOUR unique business model.
Your questions answered!
After explaining the six steps for becoming a consultant/coach, I spend the last 50 minutes of the course answering frequently-asked questions, including:
How to find freelance work for an existing educational consulting or coaching firm
How (and when) to start your own educational consulting or coaching company
How much to charge for coaching and educational consulting services*
How to figure out if there's a demand for your expertise & whether your services are valuable
How to transition out of the classroom and when (or if!) you should quit your day job
How to find a daily schedule that works with your natural cycles of creativity/productivity
How to "do it all" and what it really means to be an entrepreneur
*I also share how much I charge for my services and the going rates in the industry—this is information you cannot find anywhere online. Trust me, I've looked!
Eh, I like free stuff. Why pay for a course?
This is NOT a formal training program. This is simply a video of me sharing my experience and advice with you. The tone and format is casual: it's exactly what you'd hear if we sat down for a cup of coffee in my living room and you asked to pick my brain for awhile.
So why pay for something so simple? Because everything I am sharing in this course is information that took me years to figure out through experience and networking with other consultants. This is not advice that you can just Google. It's information that many educational consultants aren't willing to talk about publicly online: I had to learn just about everything the hard way, through trial and error.
So, you are not paying for a COURSE: you are paying for the VALUE you will get from it. That's a foundational principle of consulting (and the reason why consultants get paid so much): people are never compensating you for your time, they are paying for the value you will add to their organization. It might take ten seconds for a consultant to share a piece of information that inspires transformative practices or nets thousands in sales.
This course provides real value. I am confident of that. The information I am sharing here will save you an immeasurable amount of time, energy, and anxiety over whether you can actually monetize your passion and propel your work to the next level. This information will help you work full or part time in educational consulting where you can earn tens or even hundreds of thousands of dollars.
If you are serious about making the transition into educational consulting/instructional coaching or you feel like you need to know what's really involved before you pursue that career, you have to be willing to invest in your business and yourself. This is the information that will help you devise your game plan and make the transition. Take the leap and start sharing your message with the world!
What you get with this course
You can buy a single user license (i.e. unlimited personal use of) the following resources. You will receive:
An 18 module online course with a total of 1 hour and 40 minutes of video
A streamable and downloadable 1 hour 40 minute audio-only version (MP3, playable in iTunes)
A 31 page PDF transcript so you can easily skim and reference the information shared
An 8 page note-taking guide to organize your thoughts and questions as you watch
Links to resources mentioned in the video
Your access to these resources will never expire. If you have any difficulty playing the video or audio on your devices, you can contact me via email for support, and I will work with you until you're able to access them.
Your Instructor
Angela Watson is a National Board Certified Teacher with 11 years of classroom experience. In 2009, she turned her passion for helping other teachers into a career as an educational consultant based in Brooklyn, NY.
As founder of Due Season Press and Educational Services, she works as an instructional coach and speaker/presenter. She has been sharing teaching ideas on The Cornerstone For Teachers blog since 2003 (reaching over 8 million visits each year), and hosts Angela Watson's Truth for Teachers podcast, where she provides weekly encouragement and inspiration to teachers around the world.
Angela also creates curriculum resources and five books for teachers, including the best selling title "Unshakeable: 20 Ways to Enjoy Teaching Every Day...No Matter What."
Her most recent venture is the The 40 Hour Teacher Workweek Club, a subscription-based service that is currently helping over 30,000 teachers achieve work/life balance.
Frequently Asked Questions
When does the course start and finish?
This is a completely self-paced online course - you decide when you start and when you finish.
How long do I have access to the course?
How does lifetime access sound? After enrolling, you have unlimited access to this course for as long as you like - across any and all devices you own.
What if I am unhappy with the course?
If you are unsatisfied with your purchase, contact us in the first 30 days and we'll give you a full refund.
Here's what teachers are saying:
"Thank you, thank you, thank you, Angela, for sharing your time and expertise! I feel like I have a much better sense of the direction I need to go in next. I also know the steps I can start taking right now to get me where I want to go." –Amber, New York City, NY
"You have made me feel encouraged and inspired. I wasn't sure if consulting was something I would be able to do, but you really helped me see what my strengths are and how I can utilize them in my business." –Gary, Marietta, GA
"I definitely feel better prepared now to move forward with building my website and marketing my skills. I needed someone to bounce ideas off of, someone who knows what kinds of expertise is needed right now in the field of education and could help me see how I could fit into that." –Beth, Amarillo, TX
"We are selling more teaching products than ever before! Thank you SO much for showing us how to spread the word about our resources. You made it sound like a really simple and mangeable process and it actually has been! I can't tell you what a big difference this has made in our website traffic, too. Thank you again!" –Kristy, Philadelphia, PA
"Your transitioning into educational consulting video was so inspirational. It made me feel like I can definitely do this. I am excited to begin my journey!" --Jennifer, Spokane, WA